July 19, 2022 — Between the high price of gas and the need to reduce the use of fossil fuels, many PEF members have switched or want to switch to an electric vehicle. They worry, however, that they might get to work and then be stranded if they can't get the battery recharged for the commute home – a problem that can worsen in winter when cold temperatures challenge weak batteries.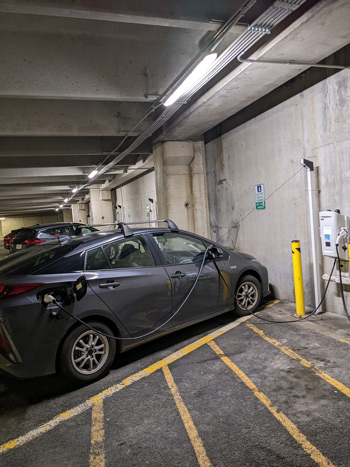 Members in Region 8 have shared that concern with their parking committee and it is searching for a solution that lets everyone get a recharge who needs one, but still maintains safety and security in the lots.
"Our Number 1 priority is keeping everyone safe," said PEF Region 8 Coordinator Danielle Bridger, who chairs the Parking Committee. That said, the committee, which also includes Maddie Shannon-Roberts and Karen Tully and is staffed by associate counsel Ed Aluck, recognizes the recharging need is real and growing.
Bridger and Aluck discussed the issue with representatives from the state Office of Employee Relations (OER) June 30 and were pleased that they understood the issue and the need to address it.
The OER representative said parking permit holders who have problems finding available charging stations should contact the Office of General Services Parking Bureau (https://ogs.ny.gov/parking), which will work with them to try to locate sufficient charging stations.
Bridger said she learned that recharging stations at one of the state parking lots (the Water Street Lot) in Albany are "overused," while the recharging stations at some other locations are under-utilized. Members at the lot where getting charging time is very competitive want to use the rechargers at the other lots, but security concerns prevent that. Only employees assigned to park at a lot may park or use the chargers there.
The security protections were strengthened after a PEF member was severely attacked and injured going to her car after work a few years ago.
One possible solution might be to have employees register the need to charge their vehicle with OGS and then assign more of those employees to lots with the under-utilized charging stations.
Bridger said she has found both OER and OGS responsive to recent parking concerns that the committee has raised, such as delays for CDTA buses moving employees from the lots to their worksites. Those delays could cause employees to arrive late for work and possibly incur disciplinary action.
"It was a very important concern, and it was rectified after we brought the problem to OER," Bridger said. "You can't ask for more cooperation than that."
The Region 8 committee will stay focused on the recharging issue until it, too, is resolved, she said.  And the state's quicker response recently makes her optimistic that this problem will also be solved soon.
Electric vehicle chargers at state parking lots spark issues